Allows people to give their time to Scouting on a flexible basis. People can still be involved in Scouting without the full-time commitment of being a leader.
It provides a resource for Managers of local Scouting, who can use it in whichever way is required.
Scout Active Support is for anyone over the age of 18 years. It is a way for adults to volunteer time to Scouting in a flexible way that suits them.
There is no requirement to have been involved in Scouting before joining. All that is required is a willingness to volunteer some time to support Scouting.
Active Support units regularly get involved in event organisation and support, adventurous activity provision, fundraising, supporting Section Leaders, providing both social activities for District and skills based sessions and training. In fact 'active support' can be just about anything, the list is endless.
These are just a few examples.
A new Beaver Scout Colony has just opened. Members of a District Scout Active Support unit who have experience in running a Beaver Scout Colony could support the new leadership team for the first term.

An Assistant Scout Leader at a local Group is on maternity leave. A member of the District Scout Active Support unit could act as the Assistant Scout Leader for the duration of the maternity leave.

A District Explorer Scout Unit is planning an international expedition. The District Scout Active Support unit could work with them to help plan the trip, including fundraising.
The District runs an annual open day for adults and young people to experience Scouting.

The District Scout Active Support Unit could take responsibility for organising an element of the day, coordinating activities and handouts.
A Scout Group is struggling for adults Leaders, a District Scout Active Support unit could take the lead on recruitment for the Group by attending local events such as school fairs and University Open Days.
Sunderland District Active Support Unit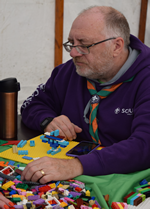 Joining the Sunderland District Scout Active Support Unit gives you the chance to help deliver fantastic scouting for our young people, gives you the opportunity to socialise with like-minded people and helps you develop skills which you can take back to your group or section and may even help you to develop skills and experience for a suitable career. It's ideal for those who want to support scouting in the district but who find it difficult to volunteer with our youth sections and it's also great for existing leaders who want a little more fun with fellow scouters.
Andrew is the District SASU manager, to Join the unit and start helping out at events, contact him at sasu@sunderlandscouts.org.uk for details about how you can get involved with the Unit.
Durham County currently have six County Scout Active Support Units, membership is open to everyone over the age of 18 – that includes adult leaders and commissioners, members of the Scout Network, supporters and interested people from outside scouting.
Follow the links below to find out more about each Scout Active Support Unit and to offer your services
County Scout Active Support Units are the: