stand as the widely recognized members of the global Scout family. Within the local context, they form an integral part of their broader Scout Group, which includes Squirrels (aged 4-5), Beavers (aged 6-8), and Cubs (aged 8 to 10½). As they progress in age, Scouts also have the opportunity to transition to Explorers (for young people aged 14 to 18) and Scout Network (for young people aged 18-25). While closely associated with the younger sections, Explorers and Scout Network operate independently of the local Scout Group.
Week after week, Scouts come together in dynamic units known as Scout Troops, ready to tackle the seemingly small yet impactful tasks that contribute to changing the world. Within these Troops, they are further organized into smaller clusters called Patrols. Each Patrol is led by an older and experienced Scout known as a Patrol Leader, often supported by an Assistant Patrol Leader. This structure encourages teamwork, leadership development, and a sense of responsibility among Scouts as they navigate the challenges and adventures that come their way.
Depending on local arrangements, a Scout troop might be directly affiliated with an Explorer Unit. In such cases, troop meetings could be conducted in tandem with Explorers, fostering collaboration in organizing activities like trips, nights away, and expeditions. This interconnected structure encourages a seamless transition for Scouts as they advance through the various stages of the Scouting journey.
Scouts are actively encouraged to engage in a diverse array of activities as part of theircomprehensive program. These activities encompass traditional Scouting skills such as camping, survival techniques, and cooking. Additionally, Scoutsexplore a broader spectrum of adventurous pursuits, ranging from abseiling to zorbing, ensuring a rich and varied experience.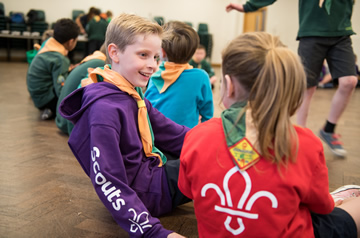 The emphasis is on participation, with a focus on personal development rather than adhering strictly to predefined standards. Scouts have the opportunity to earn various badges and awards that acknowledge their achievements, fostering a sense of accomplishment and recognizing the unique skills and experiences each individual brings to the Scout journey.
After Scouts comes Explorers, Scouts move up to Explorers when they are 14 years old