Nights away or 'residential experience' is any event that takes young people away from home that involves them sleeping somewhere overnight and is an important part of Scouting. From sleepovers in your own regular meeting place, camping at the District campsite or wild adventure camping in another Country, all of which is synonymous with Scouting and very much part of the active programme in each of the sections within Scouting today.
The Nights Away Permit Scheme
The Nights Away Permit Scheme promotes quality camping and residential experiences. It shows that all those leading nights away events for young people in Scouting have the skills, experience and right attitude to take young people away safely. It is designed so that it can be tailored to be as flexible as possible, whilst at the same time providing a robust checking process for leaders of nights away events.

Everyone who leads a nights away event for young people within Scouting is required to hold a Nights Away Permit for the type of event they are running. 
There are four categories of Permit:
| | |
| --- | --- |
| Indoor | for staying in a building that has toilets plumbed into a waste disposal system and access to running drinking water |
| Campsite | for staying at a site that has toilets plumbed into a waste disposal system and access to running drinking water |
| Green Field | for staying at any site where any of the above facilities do not exist - for example, a summer camp on a farmer's field |
| Lightweight Expedition | for planning on staying at any site for not more than one night before moving on. The core activity is a form of expedition, not residential, and all the equipment is transported with the participants. e.g. QSA/DofE hikes, expedition hikes, canoe expeditions |
Although managed locally, the Nights Away Permit Scheme is a national scheme, so once gained, a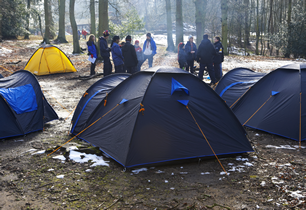 permit will allow theleader to run a nights away event in any District or County. An individual who gains a Green Field Permit is entitled to lead nights away events in the other three categories. Similarly, where an individual gains a Camp Site Permit, they may also lead Indoor events. Those holding a Hill walking Permit that includes lightweight camping in remote areas may also run Lightweight Expedition events.